Clearissa Coward's Command Center – A Cozy Lifestyle with Clearissa Coward
Room by Room: How to Clean Your Home without Getting Overwhelmed
Does cleaning and keeping your home clean seem overwhelming? Do you watch the Youtuber motivational cleaning videos and say to yourself, you wish you could? Well, I am here to tell you that "You Can". Having a clean home is not just for the pretty Pinterest posters or the Youtube influencers. You can have it too. I am breaking it down room by room for you. Below are some ideas on how to clean your home room by room.
There are affiliate links within this post. However, all opinions and ideas are my own. Clicking on and using the links to purchase products does not increase your cost at all. I appreciate your support.
I know I do not have to tell you this, but make sure to have all of your supplies and equipment at the ready. We do not want any hiccups once we begin to clean. Now, let's get started.
1. Living Room
Floors can get tracked on and generally dirty with all of the family traffic. But before you tackle the floors, look up – it is always a good idea, when cleaning, to work from the top down. That way, if anything falls on the floor while you're cleaning, you will not have to clean it up off the floor again! You do not want to have to re-do anything. Try working in this order:
My Avon Boutique…Shop Now!
* Ceilings – use a vacuum or duster to clean cobwebs from the ceiling corners.
* Wipe down ceiling fans.
* Take down light fixtures and clean them.
* Wipe smudges off walls; dust any wall art and/or mirrors.
* Wash inside of windows and window sills.
* Clean draperies and/or blinds.
* Clean furniture – use furniture oil on wood and upholstery cleaner on couches and chairs. You can use an electric mixer to make your own by whipping up 4 cups of hot water and 1 tablespoon of dish detergent until it makes a thick foam. Use this foam on the upholstery and wipe/rinse with a damp cloth. Make sure to test your fabric in an inconspicuous spot before using the mixture all over the piece of furniture.
Grove Collaborative/Mrs. Meyers Cleaning Products
* Now it is time to clean carpets with vacuum and rug cleaner, or vacuum and mop if they are hardwood. Wash area rugs if you have them.
One room down. Pat yourself on the back.
2. Bathroom
Remember to work top-down here, as well.
* Check ceilings, corners and showers for mildew. Clean if present with bleach if present.
* Dust fans and overhead lights. Sometimes it is easier to clean light fixture covers in the sink using dish soap. It is quick, easy and thorough.
* Clean curtains including shower curtains.
* Wash the inside of windows and window sills.
*Wipe down all tiled surfaces.
*Clean shower doors if you have them (I use vinegar to get rid of soap scum)
* Clean bathtub, sink, and toilet.
* Organize personal items so they are not cluttering up the sink or vanity.
* Vacuum/sweep and Mop floor.
*Send area rugs through the washer.
Another one bites the dust. High five.
Get Your Cricut Today And Let Your Creativity Shine
3. Kitchen
Don't forget to start high.
* Clean ceilings. Be sure to get all corners as cobwebs can accumulate.
* Organize and clean out upper cabinets, such as the ones above the fridge and stove. If you do this every month or so, it will only take a few minutes.
* Organize and clean out head-level cabinets above the counter.
* Clean countertops and sink. Move everything off of the countertop in order to get behind all of your counter decor to make sure your counters are completely clean. No crumbs allowed.
* Organize small appliances so they are not cluttering up every level area or if you have space, put them away until you need them.
* Throw out old food from the pantry, cabinets, drawers, fridge, and so forth.
* Clean out the flatware drawer. Sometimes crumbs all in. Get them out. It will only take a few minutes.
* Wipe down the front of the fridge, dishwasher, microwave, and stove.
* Organize and clean out below-the-countertop cabinets and drawers.
* Vacuum and mop floor.
* Wash area rugs.
We are rolling now…onward!
Spanx – Catch The Summer Sales
4. Bedroom(s)
Begin at the top…remember?
Your bedroom may need a whole new refresh and this is the perfect time to make that change. I will advise that you have thought that change out and purchased anything you may need for the refresh. If you have your plan in mind and all of your supplies and decor on hand, the process will work like clockwork.
* Dust ceiling fans and ceiling corners.
* Wipe any smudges on walls.
* Dust dressers, bureaus, and wall art.
* Dust lamp shades. You should do this in all rooms that have lamps.
* Wash bedding. Remake the bed with new blankets, pillowcases, sheets, and comforters.
*Vacuum mattress.  You will be surprised what your vacuum will pull from your mattress.  Dust mites and dead skin will accumulate over time. Disgusting I know, but it's real.
* Pull old clothes out of the closet and donate them. Go through your drawers and do the same.
* Vacuum and mop floor, or vacuum and wash carpet.
For kids' bedrooms, you will follow the same process, but you'll need to work with your kids to clean out toys, as well.
There ya go…clean house. You did it, let's do our happy dance.
What do you want to clean next? Your shed or perhaps your garage? The sky is the limit.
Happy cleaning.
If you would like to see some of my personal tablescapes, you can find them here.
Don't forget to check out my eBook; Organize Your Life in 21 Days. It is available for download and has a variety of small projects to help you organize your life one small project at a time. Get your copy today.
Never miss another article, tip or project.  Get them delivered directly to your email. Subscribe today! And let's stay connected. 
Thank you guys for all of the support you show to me and my blog. I feel so blessed because of you.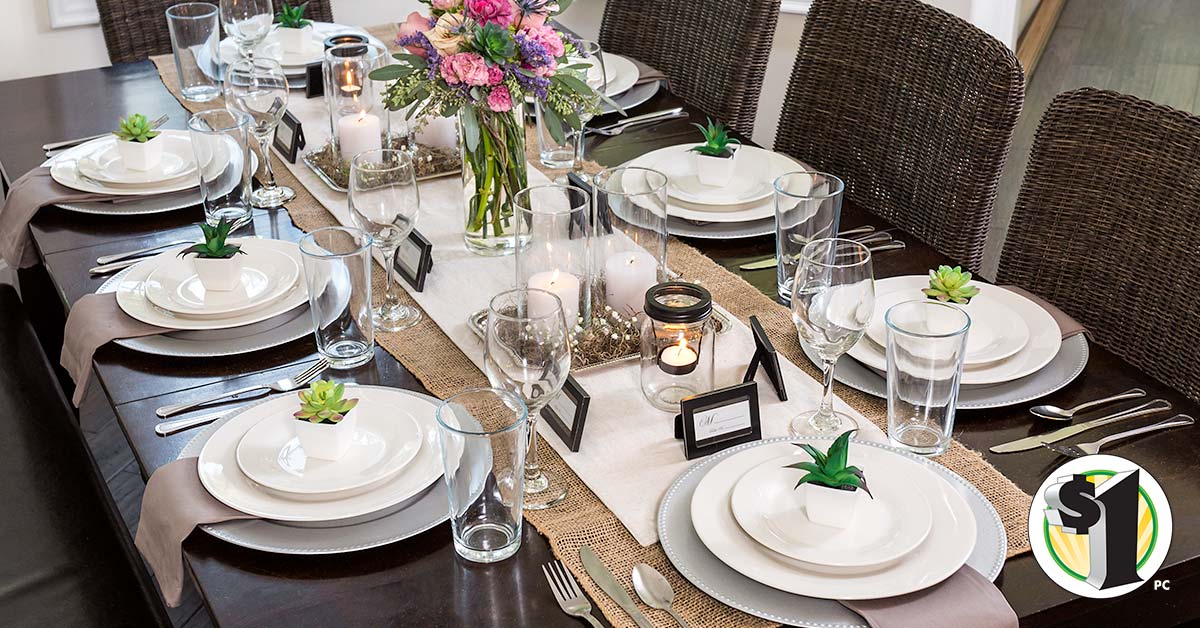 Dollar Tree – Great Bargains and Shipped Directly To Your Home
Until next time…Find And Remain In Your Own Personal Element – God Bless!
You Can Find Me:
Interviewed/Featured:
Homeyou
WPBlogging 360
Hobsess
Share this post with your friends. I greatly appreciate it and I appreciate you.
Leaving You With Hugs & Blessings,