From the Desk of Clearissa Coward's Command Center
Buying Dining Room Furniture? Consider These Tips
A Cozy Lifestyle with Clearissa Coward
I have been on the lookout for new chairs for my eat-in kitchen area for quite some time. I did not want to purchase new chairs. I was looking to upcycle or DIY my new chairs. However, I was beginning to get discouraged. The problem is that I was looking for a particular type of chair. Not surprising…I was being particular. 😉
There are affiliate links within this post. However, all opinions and ideas are my own. Clicking on and using the links to purchase products does not increase your cost at all. I appreciate your support.
I wanted the type of chair that would allow me to change the cushion covers at will because I change mine often. So although I found several nice chairs, I was having trouble finding exactly what I was looking for. Luckily the heavens were listening to my desires.
I just happened to be looking through the FaceBook Market Place and I found the perfect chairs. And better than that, the price was right! Six chairs for $30.00. Oh My! I sent the text to the seller and nervously waited. When she responded, she said exactly what I did not want to hear, "she had an interested buyer". I said to let me know if she did not hear back from the other buyer. I was giddy when she responded later and said they had not paid for the chairs and had not responded and if I would send the money via Paypay, she would let me have them. I believe that was the quickest I've ever spent $30.00
My New Chairs Before The Upcycle
I only needed four chairs for my eat-in kitchen but once I saw the chairs, I knew I would use the other two in my dining room. And these chairs would be perfect for both rooms once upcycled. All I needed to do was to paint them and recover the seats.
My New Chairs Before The Upcycle
As you can see from my personal dining room chair journey, buying furniture is a serious process and should not be entered into lightly. When deciding on your dining room furniture, there are so many directions you can go. You can have a casual look, modern formal or just something completely uniquely you. And uniquely me is the way I chose and is the reason I took my time and did not rush into a purchase. I knew that I would not be happy if I had chairs that I could not change the seat covers when I refreshed a room, therefore, I waited and I searched until I found exactly what I wanted. You can do that too.
Tip #1: If at all possible, do not settle. Be patient because furniture should last a very long time and large pieces are not always easy to change when your style does. So take it slow and try to get exactly what you want.
Before making a decision, you should do your research. Start out with, furniture and decorating magazines, catalogs, and flyers with different furniture and of course there is Pinterest. Now about Pinterest…let me say this, Pinterest can be so confusing and overwhelming. So do not fall down the rabbit hole of Pinterest. Yes indeed, check it out. Search and find the beautiful pictures but then purchase what you can afford and what best suits your taste and the size of your space. I love Pinterest and I get great ideas from Pinterest. But remember your needs while looking at all the pretty pictures.
I look at Pinterest as an idea bank. I may find an absolutely beautiful room but only incorporate the table vignette into my home and not try to duplicate the entire room. So just be careful.
Tip #2: Do your research but do not get overwhelmed by all of the choices.
As I said before, a dining room set is generally a long-term investment, so you want to be sure about your choice. Visualize or cut out or print photos of the pieces that appeal to you and make a design and/or decor book or board for your space. Remember to keep in mind the style of the rest of your home. An ultra-modern dining set in a country-style home might look a little out of place. Also, you do not have to purchase a complete set. I bought my dining table over a year ago and it was the table I wanted. But I used my old chairs in the dining room because the chairs are in good shape. But adding the additional two chairs from my recent purchase will only add more space for the family to sit and enjoy each other. So waiting worked out for me.
Grove Collaborative/Mrs. Meyers Cleaning Products
Tip #3: Remember you do not need to purchase everything in sets. If you want nice furniture and you are on a budget, sometimes you need to purchase good quality items separately.
If your dining set will be made of wood, you might choose a wood that appears elsewhere in your home. You may prefer glass because it is less susceptible to scratches and stains, but remember it shows fingerprints more readily, so upkeep may be more work.
Tip #4: Consider the long term upkeep of your new purchase. 
The size table you choose will depend on the size of your room and your family. Do not overcrowd a small room with a large table. You will want a few feet space behind each chair. Also, if you want to add a hutch or a china cabinet, you'll need to consider spacing for those items. If you have a smaller space but like to host plenty of people for dinner, you can choose a table with expandable leaves like I did and I chose one that stores the leaves beneath the table. That is awesome! We do not have to find storage for the leaves when they are not in use, but we have them when we need them.
Get Your Cricut Today And Let Your Creativity Shine
Tip #5: Measure, measure, measure! There is nothing worse than to have furniture that is oppressive because the room is too small to house it. Purchase the right size table and chairs for your dining room. You want to be able to walk around in your dining room, not climb over over-sized furniture.
If you are wondering if you should get a rectangular or round table, consider this. A rectangular table can accommodate more people without taking up so much floor space. Still, a round table offers a more intimate atmosphere for a smaller group of people. If you plan to frequently have more than 10 diners, a rectangular table is probably the choice for you.
When you think you have found a table that you would like, make sure there is enough room for the suggested seating (chairs). You should have 2 – 2 1/2 feet of space per person seated at the table.
Tip #6 Choose chairs to suit the size of the dining room and the table.
Make sure the table is sturdy and do not be afraid to lean on it and ensure it can withstand weight and pressure. Make sure the legs do not get in the way of easily placing the chairs around the table. Very important because you do not want your chairs sitting out in the floor when not in use because they will not fit under the table.
Spanx – Catch The Summer Sales
The finish you choose for your table will depend on the wear and tear you expect your table to endure. Enamel tables with a gloss or semi-gloss stain, for example, hide the color of the paint, but makes the furniture easy-to-clean and resist scratches.
Glass-topped tables show little fingerprints but are easy to clean. I know this from experience. Wood tables, on the other hand, are subject to scratches if little ones run their cars or other toys over the top. Because we do not have any permanent kids in the house anymore (my grands visit), we chose one of each. The glass top in my kitchen because glass is transparent and doesn't take up as much visual space and wood in the dining room with the hidden leaves to avoid an oversize table in a cozy space.
My Wood Dining Table
Eat-In Kitchen Glass Tabletop (The chairs you see are the ones I am replacing because the wrought iron chairs have seen their best days)
After you have chosen your table and chairs, you can choose complementary pieces. How large they will be will be dictated by the size of the room and your need for storage. Do not forget space to store all that great china! 😆
I have love for dinnerware – Yes I do. Therefore, you know I have an abundance of it. I do have an excuse though. As a blogger and Youtuber, I need a variety for table vignettes and dining room refreshes. I have to be able to mix and match them because I do not have space for 10 or more complete sets. I am learning to be quite creative using what I have.   I need to set tables for all seasons and occasions, therefore, I need quite a few pieces. With that said, I have placed myself on a tableware time out for now. My creativity is being tested for sure but so far so good. 🙂
Tip #7: Know your storage capacity. 
So would you like to see how the chairs turned out?
I love the criss-cross on the back of the chair. Painting them white, fits my personal home decor and style. However, someone else would have kept the wood look and only changed the cushions. Remember it is all about what you desire in your home.
How we upcycled the chairs: We painted 2 full coats of chalk paint on each chair and touched up where required with a third coat. Allowing each coat to dry thoroughly between applications. Afterward, we added a sealer for durability. We added 2 coats of the sealant.
How I covered the seats of the chairs for the kitchen: I left the faux leather on the chairs and covered it with a thick layer of batting before adding the fabric. I stapled both the batting and the fabric with my heavy-duty electric stapler.
I covered the leather-look/faux leather cushions with my signature black and white stripe. I was hoping I could use the material from the old chairs but that did not work out because the seat sizes are different. The new chairs are larger so I had to buy the fabric again. but I love it.
How I covered the chairs in the dining room: I used the same process for the two chairs in the dining room as I did for the 4 for the kitchen above. But what a difference a seat cover can make on the same chair. For the seat covers on the two chairs in the dining room, I used a painters' heavy-duty drop cloth and I love the look. They are durable and I got the look I wanted for little expense.  And I have material left for another project.
I love the way the chairs turned out. I am happy that I waited for the chairs that would be perfect for my environment and my style and you should do the same. Getting what you want will make your space perfect for your home and your family.
So what say you? Are you open to upcycling or do you go directly to the furniture store? Also, do buy sets or are you more into the eclectic look? Finally, do you believe in buying quality or going for the quick fix and trendy furniture pieces? Leave me a response in the comments.
Happy Furniture Shopping
Get more upcycling tips here.
Don't forget to check out my eBook; Organize Your Life in 21 Days. It is available for download and has a variety of small projects to help you organize your life one small project at a time. Get your copy today.
Never miss another article, tip or project.  Get them delivered directly to your email. Subscribe today! And let's stay connected. 
Thank you guys for all of the support you show to me and my blog. I feel so blessed because of you.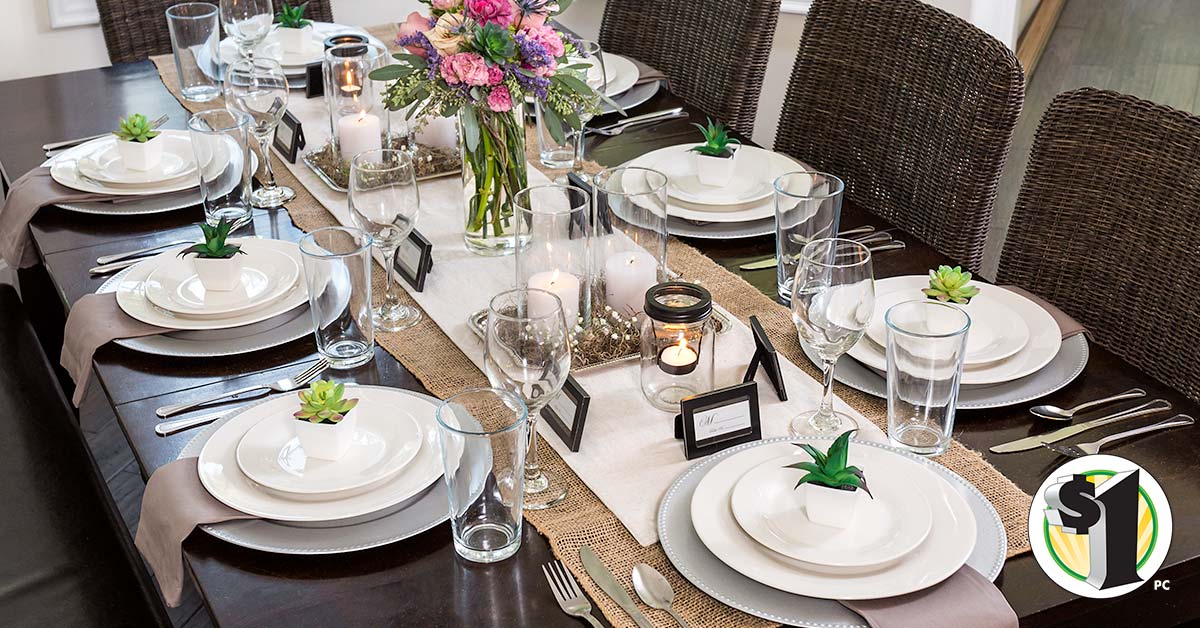 Dollar Tree – Great Bargains and Shipped Directly To Your Home
Until next time…Find And Remain In Your Own Personal Element – God Bless!
You Can Find Me:
Interviewed/Featured:
Homeyou
WPBlogging 360
Hobsess
Share this post with your friends. I greatly appreciate it and I appreciate you.
Leaving You With Hugs & Blessings,