From the Desk of Clearissa Coward's Command Center
How To Build A Dining Table Tablescape
A Cozy Lifestyle with Clearissa Coward
So, you are having a dinner party or maybe just a few of your friends are coming over for a meal. We have got plenty of ideas to help you create a great table setting for your guests. In this article, I am sharing tips to Decorate Your Dining Table and impress your guests.
There are affiliate links within this post. However, all opinions and ideas are my own. Clicking on and using the links to purchase products does not increase your cost at all. I appreciate your support.
Choosing Your Table Cloth Or Table Runner
You should base your tablecloth choice on your dinnerware and party theme, if there is one If you have patterned dinnerware, choose a plain tablecloth. If you have plain, single-colored dinnerware, you can choose a patterned tablecloth.
Be careful about choosing too many colors. If you have brightly colored dinnerware, whether it is patterned or not, choose a more subtle and neutral color for your table linen.
Grove Collaborative/Mrs. Meyers Cleaning Products
You might also place a plastic pad under your table cloth. This will prevent stains on your table and reduce clanging from dishes and cutlery. You can find table pads that are cushioned. The cushioned ones can perform double duty. One to avoid stains and to provide a padding just in case dinnerware is dropped on the dining table. The extra padding could very well save a piece of china or crystal.
Creating Your Place Settings
Try adding name cards to your settings. Not only does this take the guesswork out of where to sit for your guests, but it also adds a bit more style and personality. People appreciate this extra attention to detail and it gives your tablescape a more planned look. This will make your guests feel special.
My Avon Store – Shop Now
Make sure that you have enough space for your guests to sit comfortably. If not, it might make sense to add a second table. You can use a simple banquet table with a beautiful tablecloth and no one will be the wiser.
If your dishes are plain white, you might consider charger plates to add a splash of color. But again, if your tablecloth is adding plenty of color, you might forgo the extra busyness.
Assuming you are not going completely formal, here are some general guidelines for placing cutlery. Forks to the left, knives to the right and dessert flatware above the plate. Salad and appetizer forks and knives should go on the outside. The cutlery for the main meal is placed closest to the plate.
Glassware goes in the top right of your setting and how complicated you make this up to you. Traditionally, you will start with the water glass, wine glass and finish with a dessert glass. Unless you have a lot of space at your table, that can create a lot of clutter and most guests will probably not use all those glasses. I prefer to know my guests' preferences in advance and place the appropriate glassware at their place setting. Personally, I never use dessert glasses. I do sometimes use water goblets and wine glasses together but we are not really formal around here and normally one glass will do.
Other Details
Make sure there are enough salt and pepper shakers and butter trays for your guests to reach or pass easily. If you have a large table, you do not want your guests to have to shout across the table to get what they need (I do not have this issue 🙂 but if you do, make sure you have more than one set of these items on the table).
Do not forget the centerpiece. Try a floral arrangement, tapered candles or something to suit your unique taste or base your centerpiece on the current season.
Never miss another article, tip, real-life experience or project.  Get them delivered directly to your email. Subscribe today! And let's stay connected.
Dollar Tree – Great Bargains and Shipped Directly To Your Home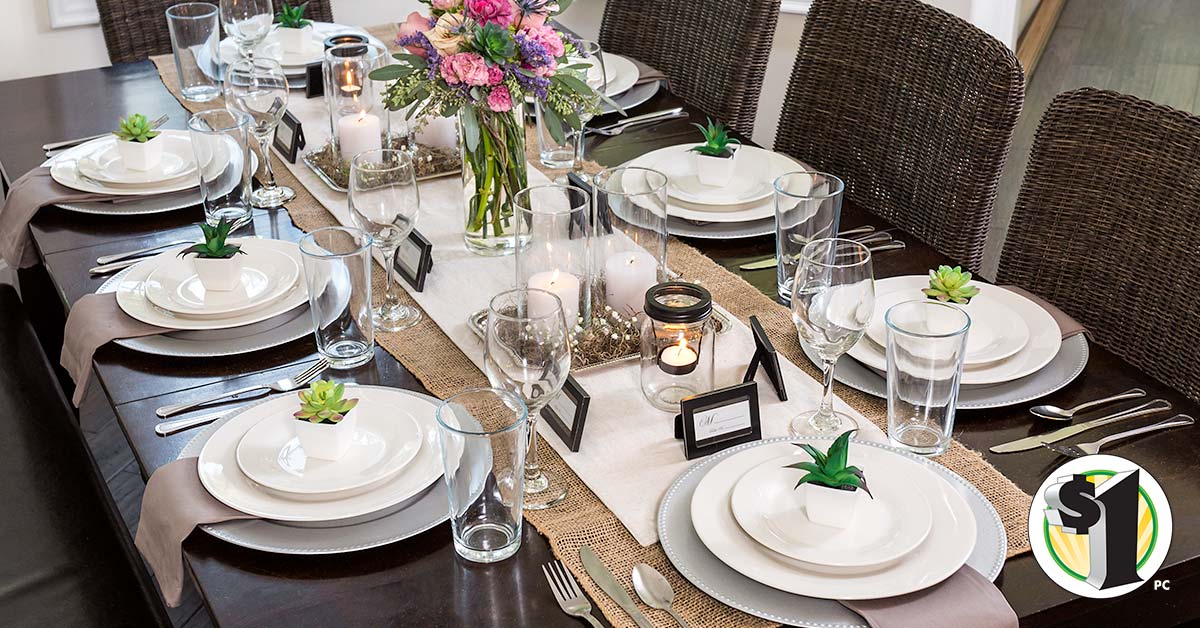 Dollar Tree – Great Bargains and Shipped Directly To Your Home
Share this post with your friends. I greatly appreciate it.
If you enjoyed this post, you may also enjoy this article. 
Get Your Cricut Today And Let Your Creativity Shine
Until next time…Find And Remain In Your Own Personal Element – Hugs & Blessings!
You Can Find Me:
Interviewed/Featured:
Homeyou
WPBlogging 360
Hobsess
Spanx
Hugs & Blessings