From the Desk of Clearissa Coward's Command Center
Secrets For A Beautiful Farmhouse Christmas Tablescape
A Cozy Lifestyle with Clearissa Coward
Decorating your table for Christmas can be as simple or as elaborate as you want to make it. But, there is one primary secret to beautiful Christmas tablescapes or any tablescape for that matter, that you should always follow.
There are affiliate links within this post. However, all opinions and ideas are my own. Clicking on and using the links to purchase products does not increase your cost at all. I appreciate your support.
By adhering to this simple secret it will make your table décor far more appealing while at the same time making your job easier. By ignoring this concept your table may appear a bit disheveled.
So what is the secret? Well, it is simple. All you have to do is decide upon a specific color theme and design theme, then stick to it. Now when I say theme, I am not indicating that you have to have the most expensive or elaborate supplies to work with. Nope, you can achieve a beautiful table just be using what you have and being creative. Let me explain…
Do you want a particular color, colors or theme? People, who especially love Christmas, still rely on the old stand-by. I will admit that red, green, white, gold and silver are still my favorites and probably always will be. But I do love a monochromatic tablescape as well. It all depends on the level of detail used when putting the tablescape together.
Perhaps you're in the mood for a wintry look. Simple. Just use white, blue, light shades of purple and you are on your way. Along with candles, you can add ornamental snowflakes, little snowmen, or strands of clear beads or snowy white garlands. Silver or white ornaments under a dome or in a glass vase will also add lots of sparkle.
If you have a color scheme in your home that you would like to play off of, then that can make it even simpler. You can always find candles, ribbons, napkins, beads, and even dinnerware, online or at the popular discount stores in your area. For me, I always hit Dollar Tree, Homegoods, Home Centric, to help me pull a theme together. And there is always my trusty Amazon as well. I sometimes even find the best bargains in thrift stores or estate sales. Add touches of winter greenery or tiny Christmas trees to solidify the look. Your table does not have to cost a million dollars to look like it does.
Grove Collaborative/Mrs. Meyers Cleaning Products
A Christmas wreath laid in the center of the table can be the beginning of a perfect centerpiece. It can be decorated with any object you may want to use as a theme. If you have no theme in mind other than something special, then ribbons and bows can always come to the rescue. Inside the wreath, place a large candle or several tapers. The tapers can be the same height or differing heights. The choice is yours. Just make certain that the flames or hot wax do not come in contact with anything that could cause a fire. Personally, I prefer battery-operated candles but I realize sometimes candles with real flame sets the mood. However, battery-operated candles are very realistic nowadays.
Hurricane lanterns placed in a row down the center of the table can take the place of a traditional centerpiece. Stemware filled with beads, nuts, berries, glass marbles, or any small festive objects can be used as well. You can use themed pieces to decorate in between. We can use Christmas bells as our example of a theme. Bells can be purchased in packages or they can be purchased already strung on wire. If they are on wire, they can be wrapped around the base of the hurricane lanterns, or you can attach them with ribbon and wrap the ribbon around the lanterns. Long strands of ribbon and beads can flow around the decorations.
Continue to carry out your theme with your table napkins. Use two napkins of different colors for each place setting. Place one napkin on top of the other. You can roll them separately or roll them together, but the important thing is to tie them together. Tie them with a beautiful wired ribbon with the bell attached to the ribbon. Because wired ribbon can be shaped, it is easy to make the perfect size napkin holder. With your napkins inside your ribbon napkin holder, artfully arrange them and place them in the center of each plate. You now have bells on your napkin holders and bells on your table decorations. You can continue the theme with bells tied to the backs of chairs, hanging from the chandelier or attached to your stemware. The possibilities are only as limited as your imagination.
The take-away here is to remember to repetition is key. Repeat your colors and theme at each table setting. Although, I sometimes mix it up a bit and make the two heads of table settings a tiny bit different than the others just to add a bit of drama. This tip is also very useful if you only have dinnerware for six but you are seating eight. In that case, just do something a bit different with the two heads of table settings while remaining as close to your color scheme or theme as possible. The key is to make it appear that you did this on purpose and not because you did not have what you needed.
Finally, remember that white dinnerware can solve a multitude of issues. And it also makes the food pop. So if you are sure of which way to go this year with your Christmas table, why not use white dinnerware and splash the table with pops of red using bows, flowers and/or napkins. You could also add pops of red, or your accent color of choice, from nearby neighborhood stores, using a different color salad plate layered on your white dinnerware.
You can find Christmas stemware everywhere right now as well.  Once you start building your theme, you will be amazed at how beautifully it all comes together.
This is truly my final tip. 🙂 Once I decide on my color and theme, and pull my centerpiece together, it helps me to practice my tablescape using one place setting to make sure it is all cohesive. So there you have it. Simple…right?
I hope these tips will inspire you to stop stressing over a tablescape and give you confidence that you can do this. No problem.
Happy decorating.
Enjoy more Christmas tips here.
Don't forget to check out my eBook; Organize Your Life in 21 Days. It is available for download and has a variety of small projects to help you organize your life one small project at a time. Get your copy today.
Get Your Cricut Today And Let Your Creativity Shine
Never miss another article, tip or project.  Get them delivered directly to your email. Subscribe today! And let's stay connected. 
Thank you guys for all of the support you show to me and my blog. I feel so blessed because of you.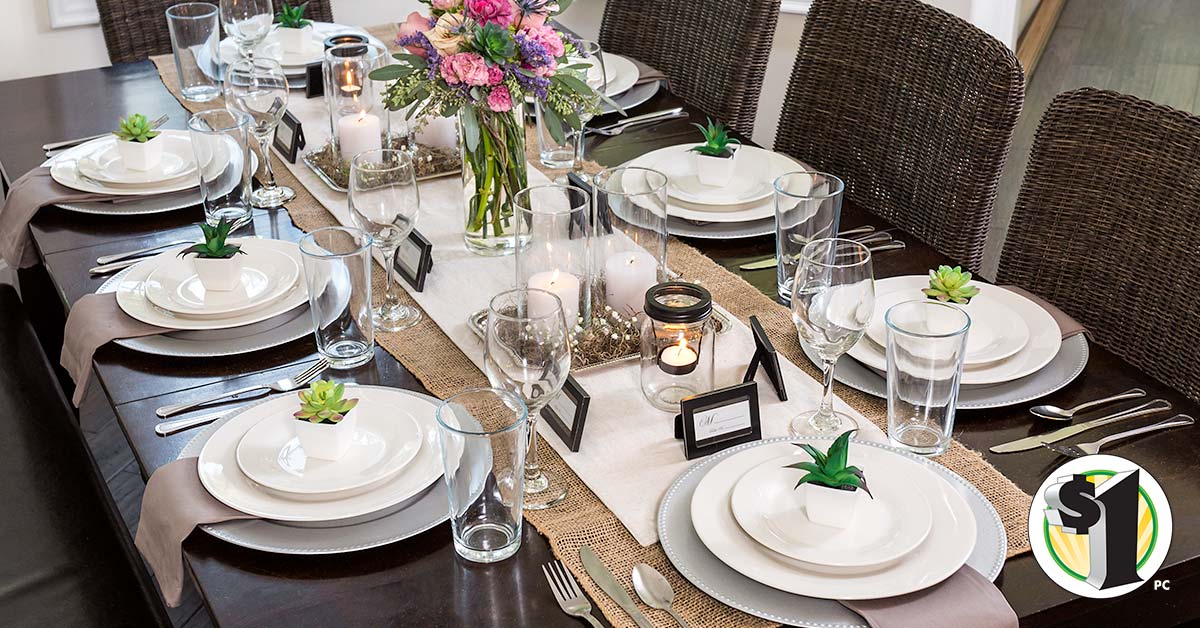 Dollar Tree – Great Bargains and Shipped Directly To Your Home
Until next time…Find And Remain In Your Own Personal Element – God Bless!
You Can Find Me:
Interviewed/Featured:
Homeyou
WPBlogging 360
Hobsess
Spanx
Share this post with your friends. I greatly appreciate it and I appreciate you.
Thank you guys for all of the support you show to me and my blog. I feel so blessed because of you.
Leaving You With Hugs & Blessings,